More than 21,000 new registrations and the creation of a thought leader among part-time job offer portals
Brigada.sk has been the leading portal for publishing part-time job offers in Slovakia for more than 10 years. Thanks to content marketing, in 2 years of cooperation, we have transformed brigada.sk into an uncontested thought leader, while also significantly improving an array of important metrics.
Our cooperation dates back to 2013, when there were several articles with tips on the part-time jobs on the portal. A detailed analysis uncovered tremendous potential - people are looking for job-related content, guides related to CVs, job interviews, motivation, earnings, etc. We took advantage of this opportunity and since the analysis has shown that competition in this sector has so far created less valuable content, we have begun with intensive implementation. Over the course of two years, we have published over 100 pieces of various content and several dozens of interviews with influencers to motivate young people into moving forward. Today's successful entrepreneurs, artists or scientists once began their career journeys as part-time workers as well. After a few weeks it was clear that content marketing activities are very beneficial and the content is starting to reach many users. An important part of the process was to optimize and add important topics to the advisory room for part-time workers. Thanks to this activity, we managed to achieve almost 20 times the number of organic visits to the advisory room than before.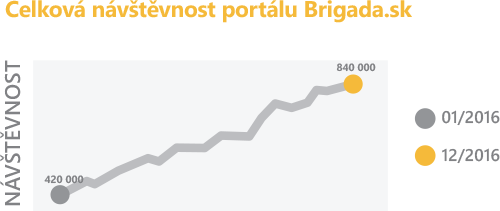 increase in organic traffic
100%
new user registrations
21,000+
increase in the average time spent on page
92%
most read article visits
55,000+
news section organic visits since its launch
400,000+
views of interviews with influencers with no paid support
35,000+
advisory section increase in organic visits since its redesign
1,950%
total advisory section visits since its redesign
430,000+
the number of interviews with influencers
30+